While traveling, among the most vivid impressions people still have smells and tastes.
The brightness of the "picture" that you managed to see and admire at a certain moment is momentary and, unfortunately, is very quickly erased from memory. Another thing is tastes and smells, which all life can remind you of a warm summer evening in a cozy cafe or a noisy party with friends.
Traditional Armenian cuisine is perhaps as versatile and contrasting as Armenia itself. There is an opinion that meat and fatty dishes prevail in the cuisine of the peoples of Transcaucasia. This is partly true, but when you visit Armenia, you will be surprised how different the country can be, as well as its cuisine, which also offers a fairly large selection for vegans. Although grabbing clothes one size larger in Armenia still doesn't hurt!
Tasty Armenian dishes
Bozbash
Bozbash is a colorful product, a very hearty and thick soup. For its preparation, large pieces of meat and bone are used, which are first boiled, then fried, and then stewed with potatoes, peppers, eggplant, onions and tomatoes.
In the national cuisine of the Armenian people, there are dishes, which not everyone will decide to eat. For example, soup poch (tail). It is made from oxtail. To get rid of the smell, the tail is soaked for 1.5 days and then boiled with the rest of the ingredients for about 3 hours. Armenians eat soups with lavash (pita bread). However, not a single meal can do without this bakery product – it is always on the traditional Armenian menu.
Sevan crayfish
Continuing the theme of Sevan restaurants, it will be a real crime not to mention the huge Sevan crayfish and crayfish nebula kebab. Surprisingly, the latter cost almost as much as a traditional meat kebab.
Dolma
Another controversial issue regarding authorship is dolma. The meat filling of Armenian dolma must be wrapped in grape leaves. The taste of dolma from grape leaves is best revealed with yogurt sauce (matzoon) with garlic. But in the warm season, you'd also try the summer dolma, which includes eggplant, tomatoes, as well as red and green peppers.
Aveluk
Greens are very popular in Armenia, from which a huge variety of dishes is prepared: from soup to salad, seasoned with garlic and walnuts.
Aveluk has a slightly bitter taste and characteristic aroma. Aveluk is one of the exotic Armenian dishes that are worth trying in Armenia.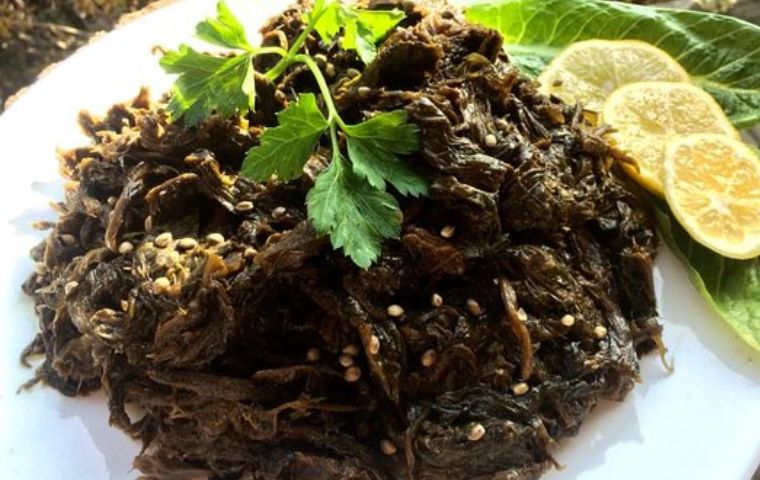 Spas
In short, this is a fermented milk soup that is eaten both hot and cold. It is prepared from yogurt (matzoon)- a fermented milk product that has a very pleasant taste and a whole list of useful properties.
By the way, tan is also prepared from it – a traditional refreshing Armenian drink. And strained yogurt itself is a salad or the basis for other salads, for example, a refreshing summer salad with cucumbers and garlic.
Of course, in addition to the above listed Armenian dishes, there are many other tasty and healthy dishes. To enjoy them, we recommend you to visit Armenia and really feel the richness and flavor of the Armenian cuisine.