Armenia is a country in the Transcaucasia region, between the Black Sea and Caspian Sea, bordered on the north and east by Georgia and Azerbaijan and on the south and west by Iran and Turkey.
The whole territory is 29.8 sq km.
The terrain is mostly mountainous and flat, with fast flowing rivers and few forests but with many trees. The climate is highland continental: hot summers and cold winters. The highest peak of the country is Mount Aragats, 4,095 m above sea-level. Lake Sevan is the largest water body of the country.
Set 1900m above sea level and covering 1240 sq km, the vast expanse of Sevana Lich (Lake Sevan) is the largest lake in Armenia and Caucasus and one of the largest freshwater high-altitude lakes in the world.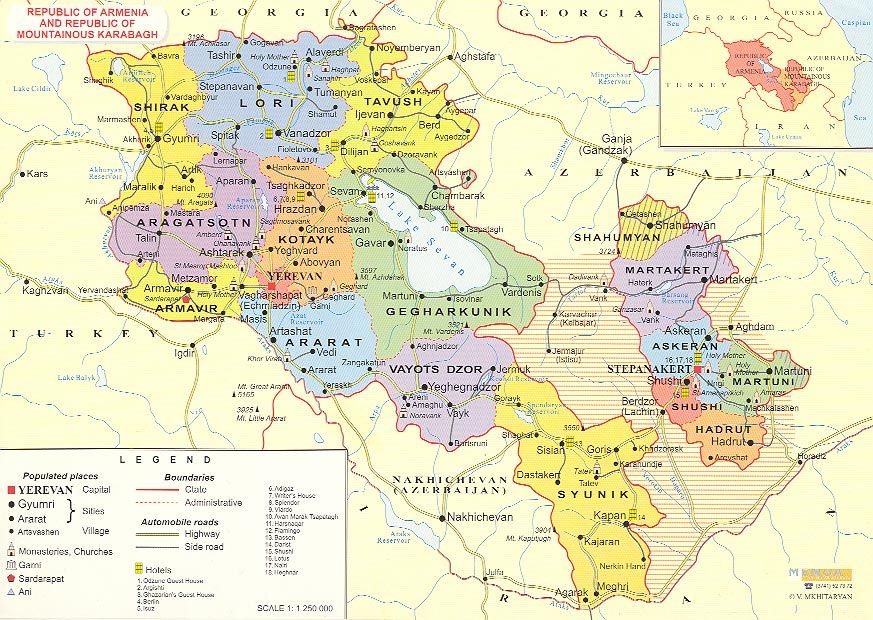 GENERAL INFORMATION
Country: Republic of Armenia.
Territory: 29.800 sq. km. Most of the territory of Armenia ranges from 100 to 2500m above sea level.
Population: 3.000.000.
Form of governance: Unitary parliamentary republic
Currency: Dram is the only national and official currency of Armenia. Credit cards are not widely used locally for payment and ATMS are available for cash withdrawal.
The Flag: The law 'On the State Flag of the Republic of Armenia" was adopted on August 24, 1990, by the Supreme Soviet of the Republic of Armenia.

Following the constitutional reform of November 27, 2005, a new RA law on the National Flag of the Republic of Armenia was adopted on June 15, 2006. The national flag of the Republic of Armenia is a national emblem of the Republic of Armenia. The national flag of the Republic of Armenia is of three colors in stripes of the same width – red, blue, orange respectively from top to bottom. The Red emblematizes the Armenian Highland, the Armenian people's continued struggle for survival, maintenance of the Christian faith, Armenia's independence and freedom. The Blue emblematizes the will of the people of Armenia to live beneath peaceful skies. The Orange emblematizes the creative talent and hard-working nature of the people of Armenia. The width-length ratio of the flag is 1/2. Smaller and larger pieces of cloth proportionate to the one described in this section may be used.
Visa: An entry visa is required (except for the citizens of CIS countries). For the countries that have Armenian consulate, it is possible to obtain an Armenian visa before the arrival. Travelers are encouraged to request an electronic visa (e-visa) at http://www.armeniaforeignministry.am